We Are Your Local Access Control Security System Experts
Business development in Pflugerville is growing by leaps and bounds and you don't have to look any farther for the best commercial locksmith services in the area. Including services for access control systems.
We've become the area's industry leader through our absolute dedication to providing excellent customer service, fair pricing, and the best locks and accessories you can find anywhere. We work only with top-end parts providers and we stand behind every job that we do.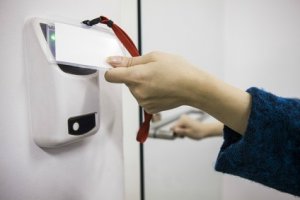 We provide licensed commercial locksmith services for the following types of access control mechanisms:
Key Fobs: Require a swipe card to gain entry
Biometric Locks: Access is granted when the correct fingerprint is used
Smart Locks: Wireless entry systems that can open a door from a mobile device
Pin Code Access: A correct 4-digit pin must be entered to be permitted to enter a certain area
What's So Great About Access Control Systems?
Your locks are the first and best line of defense to protect your business property. Locks and deadbolts keep intruders out, whether your employees or customers are on the premises or not. If you want true security, and the peace of mind that comes with it, you can count on Pflugerville Locksmith Pros.
Naturally, you may want to take things one step further, upgrading your company's tech to increase security at the same time. If so, you'll be glad to know that we also offer fast and reliable installation and repair services for access control systems that give you unparalleled control over your property.
How you can benefit:
Our access control systems are also ideal for those with shared spaces or those who rent out part of their homes. With code-controlled locks, for instance, you can give a select group of people access to the building while still ensuring that it's locked up tight when no one is there.
Or these systems are also great for your residential property. For instance, if your children arrive home from school before you get back from work, you won't have to worry about your them losing track of their house keys and getting locked out of the house.
We can do everything with these systems, from access control system installation to quick repairs when you need an emergency locksmith. We pride ourselves on being a full-service company, and no job is too big or too small for us to take on with the same professionalism.
More Great Reasons To Consider Us
Whether you're interested in new locks, new keys, access control system installation, or any of the other services we offer, there are a few things that set us apart. These include the following:
We're a 24-hour locksmith, and we're open seven days a week. Whenever you need us, we're here for you.
We're a residential and commercial service provider, so we can take on any type of job.
We are fully insured, licensed and bonded, we're a company you can trust.
Our response times are some of the best in the industry! We'll be there in 30 minutes or less.
Since we're a mobile locksmith company, we can respond to a call at any location. This includes homes, businesses, parking lots where drivers have locked their keys in the car, and anything else you can think of. We have the flexibility that no one else can match.
We offer fair, up-front pricing. We're always open and transparent about our prices, without hidden fees.
Emergency Services
We also understand that many people are searching for an emergency locksmith. These things don't wait to happen on your schedule. You can't predict a break-in, a malfunctioning lock that leaves you unable to get into your home or business, or a lost key. You need an emergency locksmith right away, even if it's the middle of the night. With our 24/7 services, we can always respond when you need us.
Call Today
We would love to hear from you to tell you more about what we can do. Whether you're looking for a commercial locksmith, a 24-hour locksmith, access control system repair services, or anything else, get in touch with Pflugerville Locksmith Pros anytime!